Brady Sr. tells 1050: Tom's ankle is tweaked, but he will play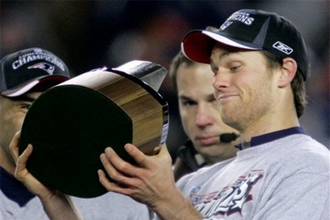 By ANDREW MARCHAND
SportsClicker SURROUND SOUND
Listen (Wednesday, Jan. 23): In the MARCHAND REPORT, Andrew Marchand and Max Kellerman discuss Tom Brady Sr.'s statements.
Listen (Wednesday, Jan. 23): Andrew Marchand is on Colin Cowherd national show, The Herd, on ESPN Radio.
Listen (Tuesday, Jan. 22): In the MARCHAND MINUTE, Tom Brady Sr. reveals what his son's injury and if he will play.
Listen (Monday, Jan. 21): In the MARCHAND MINUTE, Andrew Marchand reports that Isiah Thomas hopes to mirror Tom Coughlin's New York career.

The mysterious boot on Tom Brady's right foot is to protect a tweaked ankle, according to his father, Tom Brady Sr. Brady Sr. told 1050 that the ankle will not prevent Brady from playing.

"If he had to go out there with two crutches and a cast on each leg, he is playing," Brady Sr. "He won't voluntarily walk off the field. He would have to have a couple of casts on his legs and couple of casts on his arms to prevent him from going out there. Anybody that thinks a little tweak is going to stop is just wasting ink."

Brady Sr. says that if the injury were serious, he and his son would have spoken about it. They have not.

The whole story began because paparazzi spotted Brady wearing a protective boot on his right foot. For the Bradys dealing with the paparazzi is part of life.

"I guess it comes with the territory," Brady Sr. said. "I think it is fairly obvious, he likes his privacy. That is something that is in a bygone ear. Now, he has to deal with it. As we look at, it is amazing that half of the stuff that written about him is untrue and the other half is true so what we do is we don't pay much attention to it."

In this case, the Patriots have diverted attention from going 19-0 to an injury that is not very serious.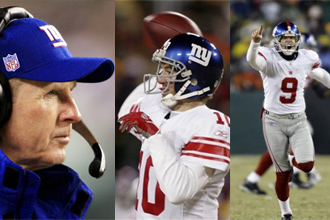 By ANDREW MARCHAND
Managing Editor

Tom Coughlin easily could have been fired last year, but Giant ownership decided to give him one more season. Lawrence Tynes missed two field goals, but Coughlin decided to give him one more chance. Eli Manning was supposed to be nothing compared to his brother, but it has taken him half the time to reach the Super Bowl than Peyton.

There is a beauty in the NFL randomness.

Coughlin could have been a failure in New York. Tynes could have been a goat. Eli could still just be Peyton's little brother.

Instead, Coughlin moves behind Parcells and ahead of Fassel in Giant coaching history. Tynes will always be known as gutty for wanting to go back out onto the sub-zero field to make the third time the charm. And Eli now is the last Manning playing.

Its randomness is why even though there has been nothing more consistent than the Patriots, the Giants can win the Super Bowl. In Vegas they may not think so as the Giants were 14-pointdogs from the opening line. But the Giants can win.

We break these things down as if there is only one way that these games can break. That is wrong. It is not black and white at all.

If the Patriots faced the Giants 10 times, New England would win at least seven of those meetings. But maybe Feb. 3 is one of the Giant win days.

So break it down over and over. Talk about how the Giants can run on the Pats or how the Pats will be able to pass on the Giants. If the Giants are to win, it will come down to randomness because the Patriots are the better team. The Giants, though, may have luck on their side.

If they didn't, Coughlin would be a failure, Tynes' a goat and Eli, just Peyton's little brother.

*****


There is always a fine line between enjoying being in the Super Bowl and just being satisfied to be there. There is a real sense that this Giant team is not satisfied. Some players, like Michael Strahan, were in the Bowl seven years ago and know that you got to win it to truly be remembered. Listening and reading what the Giants are saying, they don't sound satisfied.

Some of the Giants are enjoying the limelight. At the Knicks game on Monday, Plaxico Burress and R.W. McQuarters, among others took in the MLK loss. When Plaxico was introduced he bowed to each corner of the crowd like a Broadway performer. The "Let's go Giants!" chants filled the arena. Then the Knicks lost.